IMMEDIATE RELEASE:
Wednesday, October 15, 2014
WASHINGTON, DC – As part of Healthcare Solutions Week, Independent Women's Voice is proud to present Senator Mitch McConnell with the 2014 Healthcare Leadership Award. He is one of only 15 recipients nationwide. Sen. McConnell has been a leader on the issues and in advancing the policies that are essential to truly improving American healthcare.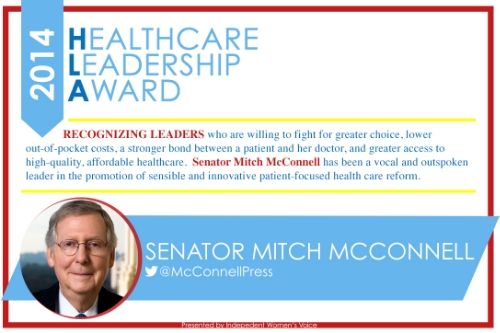 The Independent Women's Voice created the Healthcare Leadership Awards to recognize those leaders who are willing to fight for greater choice, lower out-of-pocket costs, a stronger bond between a patient and her doctor, and greater access to high-quality, affordable healthcare. Each of the 2014 recipients has been a vocal and outspoken leader in the promotion of sensible and innovative patient-focused health care reform.
"Senator McConnell understands the threat that ObamaCare poses to women, families and our economy and he is dedicated to advancing patient-centered reforms that will create a better healthcare system for all Americans. McConnell has made it clear to the people of his state that ObamaCare is neither caring nor affordable and we need to both minimize the damage it is causing and work to start over," said IWV President and CEO Heather R. Higgins
###
Independent Women's Voice is a 501(c)(4) nonpartisan, nonprofit organization for mainstream women, men and families dedicated to promoting limited government, free markets, and personal responsibility. IWV is an affiliate organization of the Independent Women's Forum.
MEDIA CONTACT
Victoria Coley | Director of Communications
Independent Women's Voice | www.iwvoice.org
[email protected] | cell 443.758.6077