OBAMACARE IS STILL A KEY ISSUE DRIVING ELECTION RESULTS
IWV Congratulates 68 Victorious ObamaCare Repeal Pledge Signers
(Washington, D.C.) — Celebrating the victory of 68 (total number pending final outcome of races not yet called) signers of the ObamaCare Repeal Pledge, Independent Women's Voice President & CEO Heather R. Higgins released the following statement:
"Independent Women's Voice (IWV) congratulates the 68 (and counting) candidates and lawmakers who signed the ObamaCare Repeal Pledge and were victorious in their respective elections last night, a 76 percent success rate.
"Independent Women's Forum (IWF), IWV's sister organization, launched multiple health care issue education initiatives around the country before voters headed to the polls, including critical information on ObamaCare, so that citizens could make more informed decisions on the issue. And where there was a tossup race with a Repeal Pledge signer running, Independent Women's Voice alerted the public regarding which candidates had pledged to repeal the noxious law.**
"We're glad to see that IWF's and IWV's efforts to inform the American people about the health care law were successful in expanding the population that recognizes for themselves how ObamaCare is increasingly harmful, costly and counterproductive.
"ObamaCare has never been popular with the American people—whether in polls or at the ballot box. The ObamaCare Repeal Pledge was created as a trusted shorthand for candidates to show their commitment to their constituents to helping Americans find their way to superior health care, and it's power was seen again last night.
"We're glad to have these 68 victorious candidates working with us to see that ObamaCare is fully and completely replaced with something that is truly affordable, accessible, and that returns choice and control to patients and their doctors.
Those who signed IWV's ObamaCare Repeal Pledge and were victorious in last night's elections include:
Rep. Bradley Byrne (AL-01)
Andy Biggs (AZ-05)
Rep. David Schweiker (AZ-06)
Rep. Trent Franks (AZ-08)
Rep. Bruce Westerman (AR-04)
Rep. Doug LaMalfa (CA-01)
Rep. Tom McClintock (CA-04)
Rep. Doug Lamborn (CO-05)
Sen. Marco Rubio (FL Sen)
Dr. Neal Dunn (FL-02)
Rep. Ron DeSantis (FL-06)
Rep. Bill Posey (FL-08)
Rep. Dennis Ross (FL-15)
Brian Mast (FL-18)**
Rep. Jody Hice (GA-10)
Rep. Tom Graves (GA-14)
Rep. Todd Young (IN Sen)
Jim Banks (IN-03)
Trey Hollingsworth (IN-09)
Rep. Rod Blum (IA-01)
Rep. Steve King (IA-04)
Sen. Rand Paul (KY Sen)
Rep. Thomas Massie (KY-04)
Rep. Andy Barr (KY-06)
Rep. Andy Harris (MD-01)
Rep. Bill Huizenga (MI-02)
Rep. John Moolenaar (MI-04)
Rep. Fred Upton (MI-06)
Paul Mitchell (MI-10)
Jason Lewis (MN-02)**
Rep. Tom Emmer (MN-06)
Josh Hawley (MO AG)
Don Bacon (NE-02)
Rep. Lee Zeldin (NY-01)
John Faso (NY-19)**
Rep. Richard Hudson (NC-08)
Rep. Kevin Cramer (ND At-large)
Rep. Jim Jordan (OH-04)
Rep. Bob Latta (OH-05)
Rep. Bill Johnson (OH-06)
Rep. Tom Marino (PA-10)
Rep. Keith Rothfus (PA-12)
Lloyd Smucker (PA-16)**
Rep. Mark Sanford (SC-01)
Rep. Mick Mulvaney (SC-06)
Rep. Phil Roe (TN-01)
Rep. John Duncan (TN-02)
Rep. Diane Black (TN-06)
Rep. Marsha Blackburn (TN-07)
Rep. Louie Gohmert (TX-01)
Rep. John Ratcliffe (TX-04)
Rep. John Culberson (TX-07)
Rep. Kay Granger (TX-12)
Rep. Randy Weber (TX-14)
Rep. Bill Flores (TX-17)
Rep. Kenny Marchant (TX-24)
Rep. Roger Williams (TX-25)
Rep. Michael Burgess (TX-26)
Sen. Mike Lee (UT Sen)
Rep. Rob Bishop (UT-01)
Rep. Jason Chaffetz (UT-03)
Rep. Dave Brat (VA-07)
Rep. Barbara Comstock (VA-10)**
Rep. Cathy McMorris Rodgers (WA-05)
Rep. Alex Mooney (WV-02)
Sen. Ron Johnson (WI Sen)**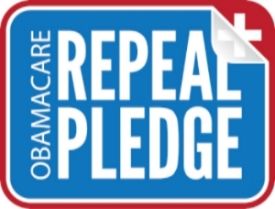 For more information about the pledge please visit TheRepealPledge.com
For interviews with Heather Higgins or others spokeswomen of Independent Women's Voice, please contact Victoria Coley at [email protected].
Independent Women's Voice is a 501(c)(4) nonpartisan, nonprofit organization for mainstream women, men and families dedicated to promoting limited government, free markets, and personal responsibility.
MEDIA CONTACT
Victoria Coley | Director of Communications
Independent Women's Voice | www.iwvoice.org
[email protected] | cell 443.758.6077