The state of our Union is strong. Thanks to an agenda of deregulation and tax cuts, women are better off today than they were one year ago: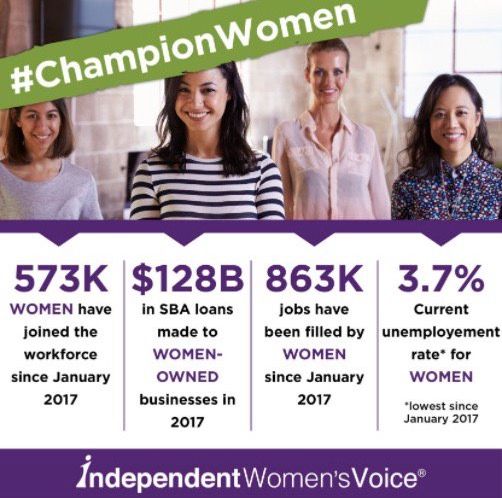 The unprecedented opportunities that women enjoy today is something to celebrate. The elevation of women in the White House, for example, is impressive to say the least.
A record number of women hold high-level, important roles in the Trump Administration, including Department of State Spokesperson Heather Nauert who continually exemplifies strength and professionalism.
Share this video on facebook now.
This list also includes:
· Nikki Haley, Ambassador to the United Nations
· Elaine Chao, Secretary of Transportation
· Kirstjen Nielsen, Secretary of the Department of Homeland Security
· Dr. Heather Wilson, Secretary of the Air Force
· Sarah Sanders, White House Press Secretary
· Kellyanne Conway, Counselor to the President
· Linda McMahon, Administrator of the U.S. Small Business Administration
· Betsy DeVos, Secretary of Education
· Mercedes Schlapp, Senior Communications Advisor
· Ivanka Trump, Advisor to the President
· Hope Hicks, Communications Director
· Jessica Ditto, Deputy Director of Communications
· Seema Verma, Administrator of the Centers for Medicare and Medicaid Services
· Heather Brand, Associate Attorney General
· Dina Powell, Deputy National Security Advisor
· Jovita Carranza, U.S. Treasurer
· Neomi Rao, Regulation Czar
· Kelly Sadler, Director of Surrogate & Coalitions Outreach
These are the kind of leaders and role models who are working to change America for the better. Yet despite their qualifications and success, many of these women often face personal, baseless attacks from celebrities and the media. Just last week, Rosie O'Donnell tweeted that Sarah Huckabee Sanders will "sit in hell" for "doing exactly what he [Trump] wants."
We should champion ALL women, regardless of their ideology and politics. That means respecting each other even when we disagree.
Please click on the social media icons below to share this story with your friends on social media and #ChampionWomen everywhere.