Candace Cameron Bure recently joined Fox & Friends to discuss her new book Kind Is the New Classy and to "put the spotlight back on kindness."
'Fuller House' star and author of the new book 'Kind is the New Classy: The Power of Living Graciously' @candacecbure shares her secret to staying true to herself pic.twitter.com/L2T7mRIAJt

— FOX & friends (@foxandfriends) April 23, 2018
During the interview, Candace talked about her time on "The View" and how she composed herself even when she felt like she was under attack.
"I really did enjoy being on the show, but it's tough at times. It's tough to be the only voice at a table that has one specific viewpoint," she said. "I always wanted to be respectful and kind at the end of the day."
Candace also stressed the importance of empathy:
"I always like to go into meetings or conversations with people I know may have an opposing point of view and have compassion towards them. I like to think about it from their perspective. Where did they grow up? What life events happened to them? They might have this viewpoint for a reason that will soften my heart to understand where they're at."
The hosts then asked if she ever feels like people take advantage of her kindness.
"Kindness is not weakness, only if you allow it to be. There was nothing weak about me at the table when I sat at 'The View.' I was strong and always kind. You can be kind and ambitious. You can be kind and respectful."
Some of her Instagram followers were upset that the Fuller House star made an appearance on Fox Network.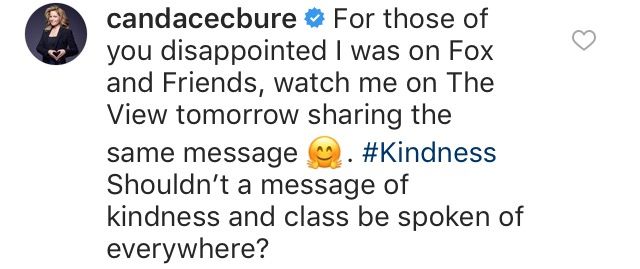 Her response?
"Shouldn't a message of kindness and class be spoken of everywhere?"
Candace's approach should serve as a model for how to treat those who disagree with us. Help us #ChampionWomen like Candace by sharing this story with your friends on social media.