On Tuesday, Roseanne Barr posted a disgraceful tweet comparing Valerie Jarrett, a former White House adviser to President Obama, to an ape.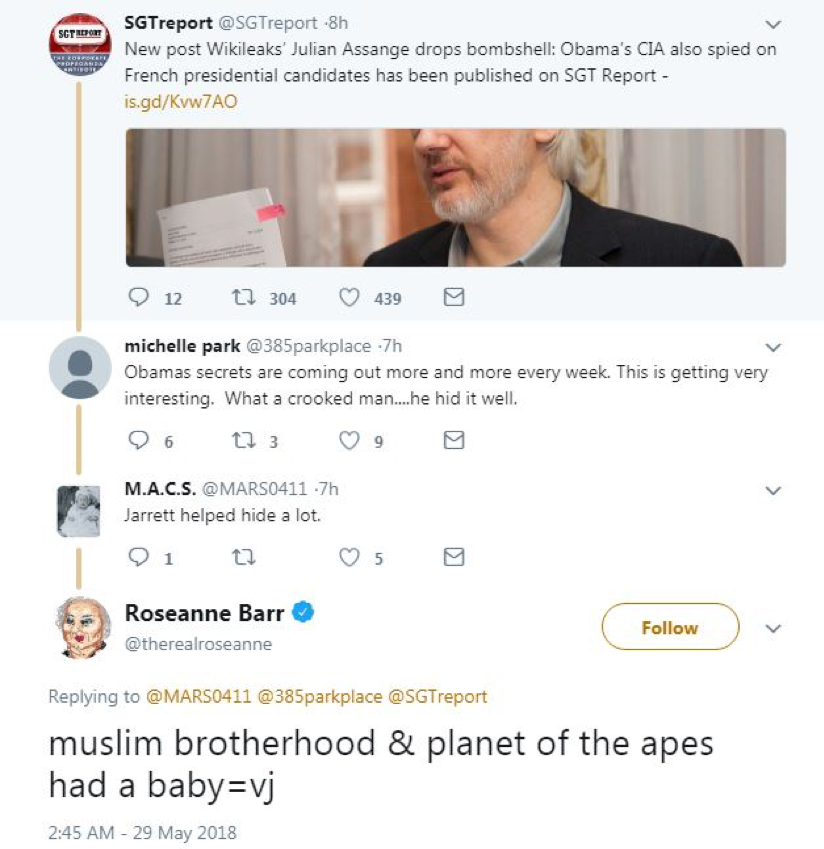 Holding a different viewpoint doesn't mean license to do or say anything we want and it certainly doesn't justify repugnant, racist remarks, even if it was intended as a "joke."
Just as Michelle Wolf's comments about Sarah Huckabee Sanders at the White House Correspondents' Dinner were demeaning and intolerable, Barr's tweet was inexcusable. Valerie Jarrett and Sarah Huckabee Sanders both deserve an apology.
Barr has since deleted her tweet and apologized:
I apologize. I am now leaving Twitter.

— Roseanne Barr (@therealroseanne) May 29, 2018
I apologize to Valerie Jarrett and to all Americans. I am truly sorry for making a bad joke about her politics and her looks. I should have known better. Forgive me-my joke was in bad taste.

— Roseanne Barr (@therealroseanne) May 29, 2018
ABC's entertainment president, Channing Dungey, has rebuked Barr and announced that ABC has cancelled the show:
"Roseanne's Twitter statement is abhorrent, repugnant and inconsistent with our values, and we have decided to cancel her show."
Michelle Wolf still has not acknowledged that what she did was wrong. In fact, Wolf even got her own Netflix show, through which she's doubling down on her insults and personal attacks on Sanders' "ugly personality." Some in the media are even celebrating Wolf and her show:
Even if you disagree with someone, it's possible to have a civil and respectful dialogue. It's time to demand higher standards and #ChampionWomen everywhere.